---
Do not miss the date!     21-25 November 2016
1º Curso en Ingeniería No-Dig – NoDig Master (en Castellano)
1° No-Dig Engineering Training Course – NoDig Master (language: Spanish)
35 hours on 5 days
Incredible price: just Euros 300,00
Click here for more information 

---

Trenchless Technologies (also known as No-Dig Technologies) are simply the smartest way to install, rehabilitate or replace underground utilities (pipes and cables) without excavating open trenches. That results in a lower energy consumption, a very low environmental impact and a faster and more productive way to do these works. Therefore, whatever utility you intend to install, rehabilitate or replace, I can help you to do it trenchless!
---
October 2016 – NEW Books from Renzo Chirulli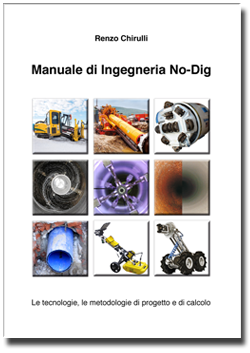 Consulta l'indice del volume e l'indice analitico.
70,00 € + costi di spedizione
"Manuale di Ingegneria No-Dig" – ITALIANO
ISBN 978-84-946170-1-0
---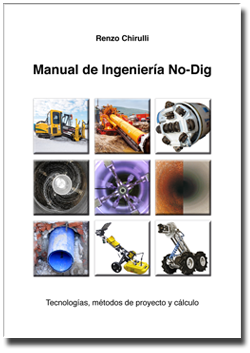 Consulta el índice de contenidos y el índice analítico.
70,00 € + gastos de envio
"Manual de Ingeniería No-Dig" – ESPAÑOL
ISBN 978-84-946170-0-3
---